Custom-tailored Private Tours for couples or the whole family & friends to Bohemia & Moravia. Get your family or friends together, set YOUR date & pick ANY places you would like to visit. Visit your ancestral village or relatives. We can arrange for your day trip from Prague with an English-speaking driver who will take you there – For family reunions, Shopping, spree, or any other activities of your interest.
 Your anytime private tour may be designed starting from Prague with the following package:


DISCOVER the BEAUTY of PRAGUE


PACKAGE INCLUDES
• Transfer from Prague airport / train station to your hotel
• 4 days / 3 nights *First Class hotel accommodation
• Daily buffet breakfast (As per daily/hour itinerary in the "Travel Book")
• Local service charges and taxes
• 4- hour Prague City tour
• Information kit including maps of the Czech Republic; Prague & other valuable tips before you go and during your trip.
• ADDED EXTRA VALUE - Special Treats: Folklore Show including dinner. Dancers and musicians dressed in traditional costumes will entertain, excite and amuse you during two and half hours of performance. Hotel pick-up and return as well as unlimited beer, wine and non-alcoholic beverages included.

(* Hotel Ratings: none or 1* Hostel; 2* Tourist; 3* First Class; 4* Superior Class; 5* Superior De-Luxe
Hotel upgrade possible upon request and availability)



Get your family or friends together, set YOUR date & pick ANY places you would like to visit for More family research - Visiting your ancestral village or relatives; We can arrange for you an English-speaking driver who will take you there – Family reunions, Shopping spree or any other activities of your interest, etc. We'll design a tour package to meet your special needs and budget with complete LAND and optional flight arrangements. You'll visit with your relatives and tour your ancestral village, church & cemetery, and all the sites you wish or may be interested in. We may "SPICE UP" your program with: Brass band concerts - Folklore and Ethnic festivals - Brewery or wine tasting tours - Castle/Chateau and Cathedral tours - Crystal Glass or Porcelain factory tours - Folklore show - Cruises on the Vltava River & much more! We can also make: • Contact arrangements with kroj (Czech costume) makers in Bohemia & South Moravia as well as arrangements with shoe/boot makers • Professional photographers and more.


Contact us before you plan your own vacation 
At your request, we'll customize your whole tour to your wishes and budget. We put in all the effort to show you the best of the country which goes well beyond the tours of the well-known monuments. FREE ltd. Ancestry Research: You don't have to spend hundreds of $ on lengthy ancestry research. Give us any information about your ancestors* and we'll do limited ancestry research for you at no cost when you join us on any scheduled or private tour for 6 or more days. We have about a 96%**success in locating living relatives. Don't miss the chance to enjoy meeting with them before it's too late! They may give you more information than you were looking for. Isn't it time to reconnect with your ancestry roots, now? We create quality vacations that will Exceed your expectations. We live up to what we promise.
REFERENCES AVAILABLE UPON REQUEST *Ancestor's information/copy of Birth Certificate, Baptism List, Marriage License, or any other document issued or mailed from Czech Lands
**Based on information & documents provided by you.

 
Getting Family and Relatives together
With over 25 years in business, we are highly experienced in organizing trips for individuals or group tours, large and small, and have up-to-date extensive knowledge of all areas in the Czech Republic, - that's our SPECIALTY. An additional assurance for you is to know that we were born there, grew up & lived there for almost 30 years, speak the language, know the history of the homeland, know our way "around" (not just areas packed with tourists), understand the mentality of the people and expectations of American travelers and much more. That kind of LIFE experience you can NEVER learn from any books, schools, or traveling there even 100+ times as a tourist! There is no doubt about it, that it gives us a great advantage (to your benefit) over our competitors. We are the best choice for you! We know where to go to find the things you are looking for and get the right answer to your needs including information about your ancestry research (many times the latest, private information from villagers), which couldn't be found in any archives! In addition, you should know that we have a large network of providers and contacts to the right people at the right places.
10 Tour members + 17 Czech relatives. First Czech family reunion in 150 years! We arranged it and made it happen!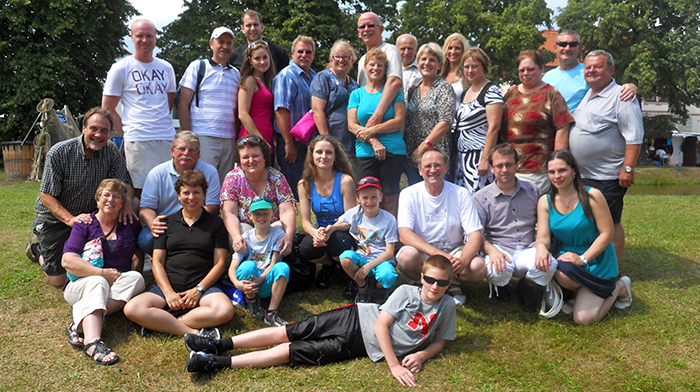 We will custom design a Private tour for couples or your whole family & friends.
Since 1995, FREE Ltd. ancestry research of living relatives with a group of a minimum of 6 people and 9 or more days stay, made by a Czech native, is always part of the tour. We don't know of and have never heard of any other travel agencies who can provide you with this unique valuable service at no cost to you.